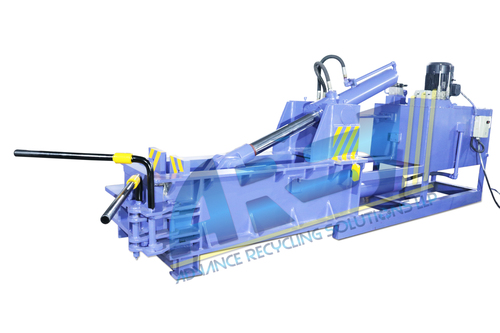 Double Action Baler
Product Description
With knowledgeable experience and expertise, we provide
Double Action Baler.
It is widely used in various pet bottle processing units for providing perfect size and shape to bottles. Widely known for their high durability and effective performance, this product is widely demanded among valued patrons in the global market.
Double Action Baler
is delivered to the clients in an allotted time limit owing to our vast delivery network.
Type of Baler
Double Compression Manual Door
| Chamber Size | Bale Size | Electric Motor | Final Cylinder Force | Weight of the Bale | Idle Cycle Time |
| --- | --- | --- | --- | --- | --- |
| 16" x 20" x 45" (W x H x L) | 16" x 12" x 6-10" (W x H x L) | 15 H.P | 70 TONS (APPROX) | 30-50 KGS (IN MS) (APPROX) | 75 - 85 SECONDS (APPROX) |
Double Compression Auto Door Export
| Chamber Size | Bale Size | Electric Motor | Final Cylinder Force | Weight of the Bale | Idle Cycle Time |
| --- | --- | --- | --- | --- | --- |
| 24" x 24" x 50" (W x H x L) | 12" x 24 " x 5-8" (W x H x L) | 30 H.P | 95 TONS (APPROX) | 40 - 60 KGS. (IN M.S.) & 15 - 25 KGS. (IN ALUMINIUM) | 60 SECONDS (APPROX) |